Our Vacation Rental Seats 5 to 6 guests easily in the Living Room.
The fireplace has a wood burning stove insert for chilly mornings and romantic evenings.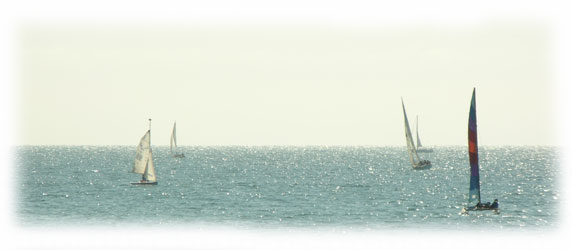 Our cozy DINNING ROOM is at the end of the Living Room, seats 4 and offers views of sail boats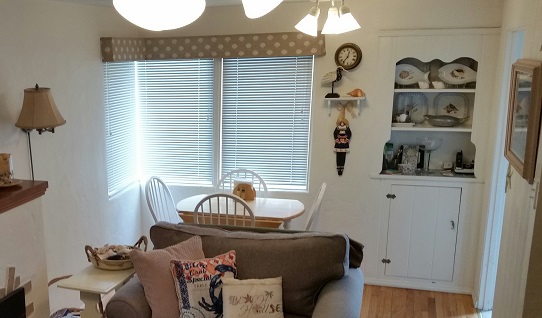 on the Ocean,
the Santa Cruz Pier, Lighthouse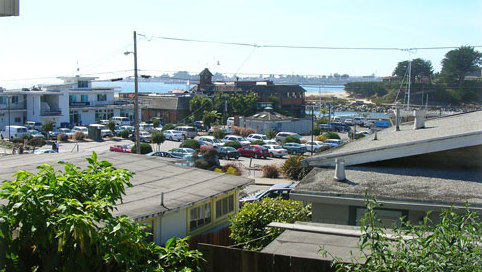 and Santa Cruz Yacht Harbor.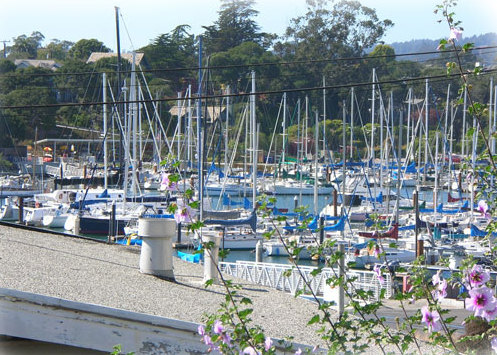 The galley KITCHEN with open cabinets is fully equipped with all the amenities to prepare your favorite meals. Coffee Maker, Coffee Grinder, Margarita Machine, electric Can Opener and Cooking Utensils, Blender, Toaster, Refrigerator with ice-maker, Stove/Oven and Microwave, assorted Cookware and mixing Bowls, Dishes, Glasses, Flatware and Linens. Assorted Spices and dry goods are available from time to time, as used and replaced by guests.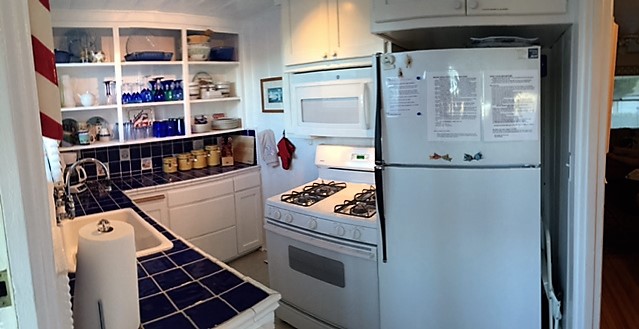 BEDROOM 1 of Arbor House Vacation Rental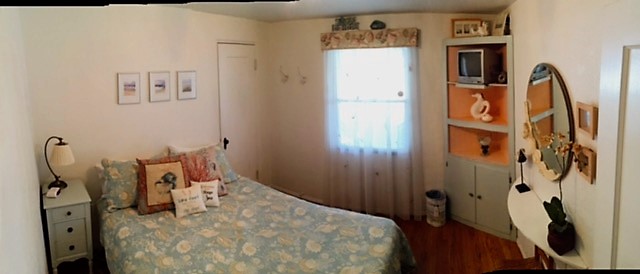 is located at the front of Arbor House Beach Cottage and decorated in a serene color pallet. It is a comfortable retreat that offers a view of the Front Porch and Garden through the breezy, seashell embellished curtains.
Appointments are a Tempur-Pedic Double Bed with plenty of pillows, cotton sheets and assorted quilt, a closet with a dresser and security safe inside, and the corner cabinet provides extra storage/shelves and holds a small TV with DVD player. The large round mirror with shelf below offer a dressing area for styling hair or applying makeup.

BEDROOM 2 in our Vacation Rental

is located at the back of the Cottage and has a Twin Trundle Bed set that opens to sleep two. A closet, hooks on the wall for extras and a tall dresser with mirror hanging above.
Decorated in a Captain's Quarters Nautical theme and offering a view of the Yacht Harbor over the Garden, you can relax and enjoy the Hummingbirds as they flit around the Fuschia flowers outside your window.
LAUNDRY / STORAGE AREA
at the back of the Cottage is equipped with Stacking Washer and Dryer, Iron and Board, Game Table and extra Chairs.
This is where additional things are stored. Queen Air Bed, GRACO crib/playpen all-in-one, Fan, extras: bedding, quilts, etc.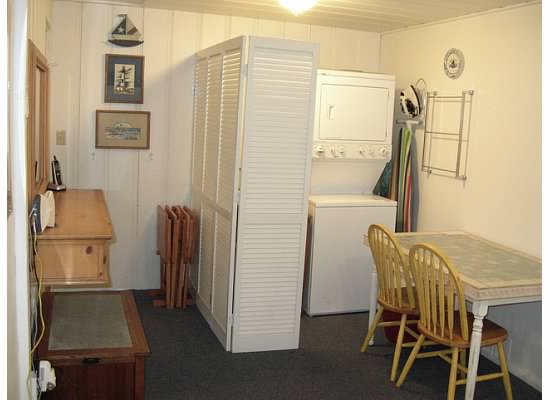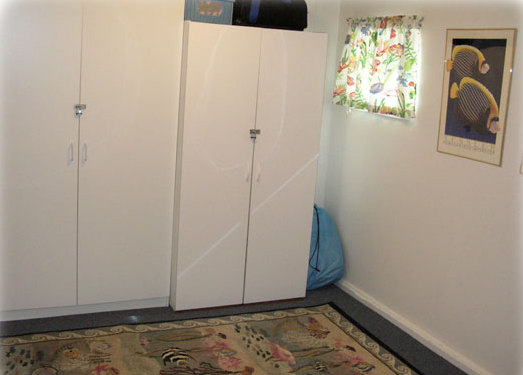 SINGLE COTTAGE BATHROOM with Shower/Tub combo, Sink and Commode.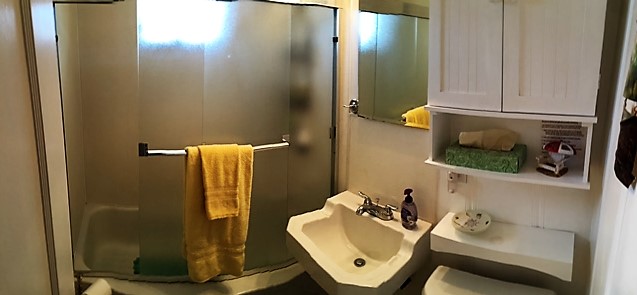 Great effort has been taken to provide a dressing area in every room to store personal items, style hair and apply make-up.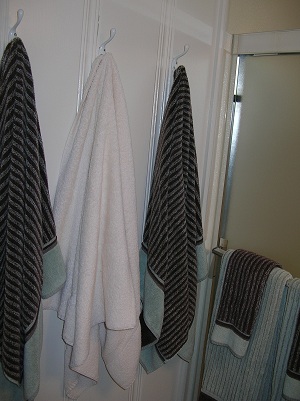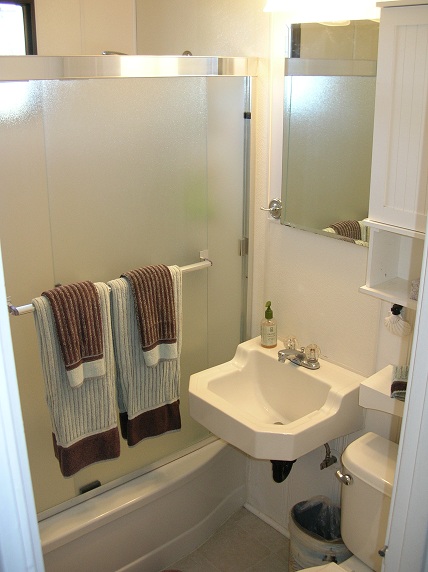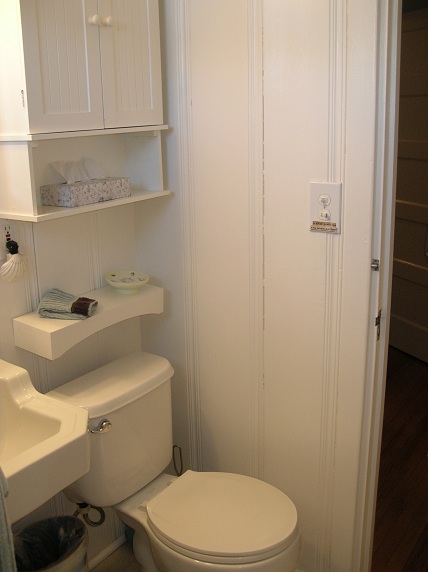 A PERFECT PLACE FOR AFTER A DAY AT THE BEACH,
the Backyard Deck and lower Gardens offer comfortable places for relaxing, gathering and entertaining.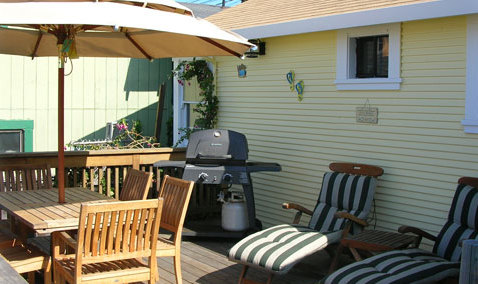 Enjoy views of the Santa Cruz Lighthouse, Monterey Bay and Yacht Harbor.
Teak Furniture, including two Lounge Chairs with pads, six Chairs a Dinning Table, and large Umbrella on the Deck at floor level to the Cottage. Equipped with a propane gas barbecue and tools.
Go down a flight of stairs to the seating area, with two Adirondack Chairs complete with foot rests. Sip hot after dinner drinks and enjoy the cool Santa Cruz evenings.
The lower Garden offers Lilies, Lavender, Rosemary and a 80+ year old Fuschia!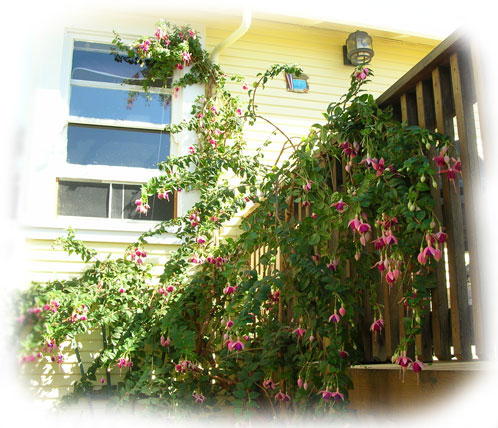 Return from the beach by entering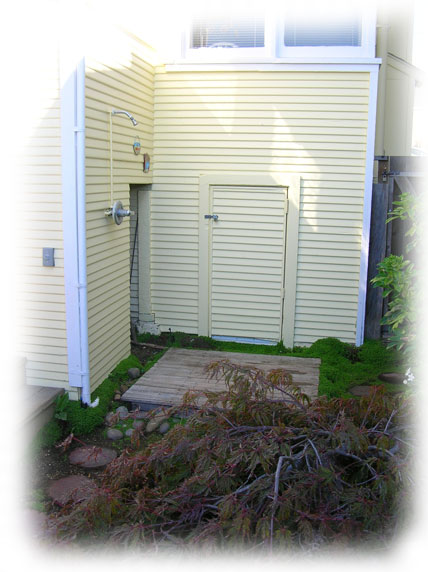 through the lower Gardens' Gate at the side entrance of the Cottage and wash away the days sand with hot and cold running water in the Outdoor Shower.
Assorted Beach items for use are stored below the deck.